Welcome to Select Interiors, Hillside Road,Greystones, Co. Wicklow, for FABULOUS CURTAINS & ROMAN BLINDS! ( We are located just a few metres from The Happy Pear ).
We have many ranges of designer fabrics, wallpapers, upholstery fabrics that definitely have the WOW! factor,& exclusive fabric ranges suitable for loose covers and Roman blinds Take a look below at just a few of the stunning wallcoverings available.If you see anything of interest GIVE US A CALL.,Below are a just a tiny few brands, you can browse through their sites too, See anything you like? We can supply you with it.
CASAMANCE, JAB; ANDREW MARTIN; Jacklyn Smith; Trend; SANDERSON; OLIVIA BARD,.......and more!
You can send photos of your rooms to ask our opinion and for some guidance if you like!
To make an appointment or to order any of our fabrics and wallpapers; or for help with your colours or interiors, get in touch. Please phone prior to a visit which requires design assistance. There is no fee for in-house help to clients who are purchasing fabrics & wall coverings. Phone or text Sandra (mobile: 087 2414136), or send an email to: selectinteriorsgreystones@gmail.com. You can also contact Sandra at Select Interiors Greystones on Facebook. Sales room/workshop open 10.30 a.m. - 5.30 p.m. Tuesday to Friday, (Mon & Sat. by appointment only). Closed from 1 p.m. - 2.15 p.m. each day.
NOTE: Showroom closed for Holidays May 30th-June 30th 2018 approx. (queries and messages can be emailed to selectinteriorsgreystones@gmail.com)
---
For tasteful rooms( with a wow factor,) we have a large collection of fabrics to choose from, for cushions, curtains, roman blinds, loose covers,and upholstery. Also we have a great range of designer wallpapers and borders, for every type of room, including children's and teenage boys and girls .AND MENS rooms.Note the HUGE CYCLISTS border on left.Any HARRY POTTER fans? We have OWL borders in a range of colours! The cradle pic is Sanderson Balloons, for babies to adults! ( If you've won the Lotto or Euro Millions, you can wallpaper the whole house in these great designs! :) Please phone for an appointment to view our wide range of fabric and wallpaper sample books. If you need an estimated cost or quotation, please bring along measurements of windows/wall areas.
We are available to assist our clients with interior design and colour advice.
A making up service is available. All curtains and Roman Blinds are custom made and hand finished, with T.L.C. :)( Cool curtain rails and poles available to order.) Sandra has been providing colour & interior design services for over 35 years to appreciative clientelle. :)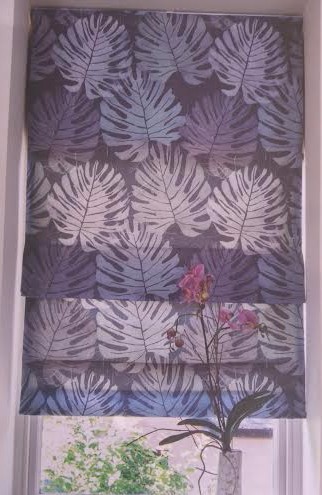 ---
Get in touch! ph.012876430